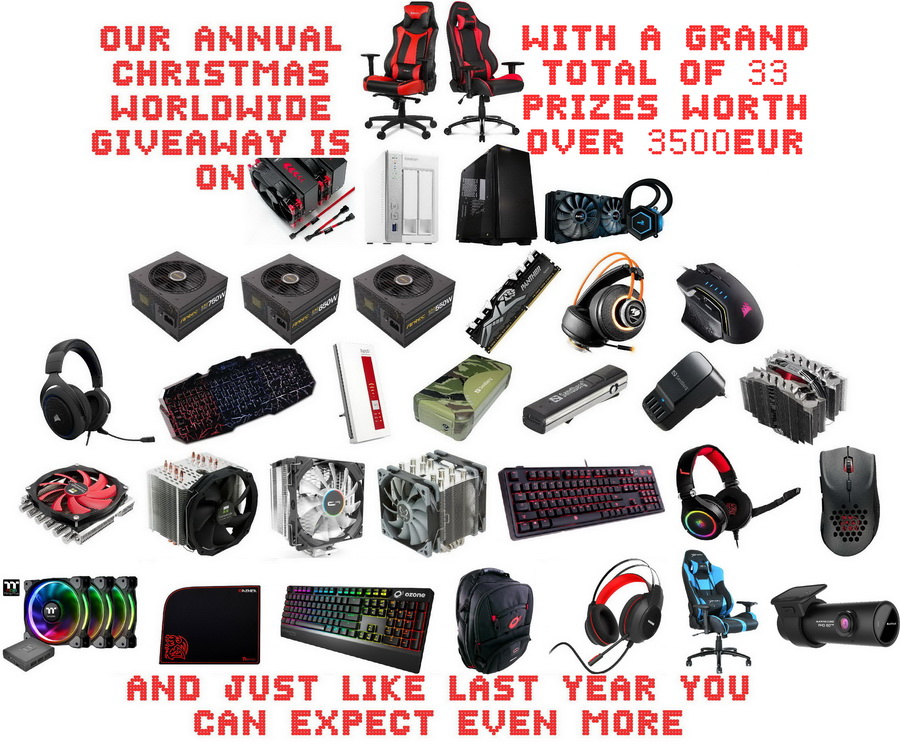 Just like with the past 5 years the time has once again come for NikKTech to launch its annual Christmas giveaway with a large number of prizes. This time however it so happens that we're launching it on my name day so with all the people calling and visiting to give me their wishes there's not much time for a great intro. Now as many of you recall last year we did something new, we launched our giveaway and allowed manufacturers to keep joining until the very last day. Well because something like that had never happened before and since it was embraced by both readers and manufacturers we're doing it again this year.
For starters however our Christmas 2017 Mega Worldwide Giveaway has the following 18 prizes:
1) Arozzi Vernazza Gaming Chair
2) AKRacing Nitro Gaming Chair
3) Noctua NH-D15 CPU Cooler Chromax Package
4) QNAP TurboNAS TS-231P NAS
5) AeroCool Project 7 P7-L240 AIO Liquid CPU Cooler
6) Antec P110 Luce Mid-Tower
7) Antec EA750G Pro 750W PSU
8) Antec EA650G Pro 650W PSU
9) Antec EA550G Pro 550W PSU
10) APACER Panther 8GB DDR4-2400MHz RAM (Single Module)
11) COUGAR Immersa Pro 7.1 Virtual Surround Headset
12) Corsair Glaive RGB Gaming Mouse
13) Corsair HS50 Stereo Gaming Headset
14) Sandberg Thunderstorm Gaming Keyboard Gaming Keyboard
15) AVM FRITZ!WLAN Repeater 1160
16) Sandberg Outdoor Powerbank 5200mAh
17) Sandberg Bluetooth 2in1 Audio Link
18) Sandberg 4in1 USB AC Charger 6.8A EU+UK

The value of all these is just under 2100Euros so we're still a long way compared to the 6500Euros worth of prizes we had last year but we may still get there by the end of the giveaway (also depends largely on the numebr of participants so do share anyway you can).
Unlike all our giveaways due to the large number of companies participating our Annual Christmas Giveaway requires just two steps for you all to be eligible:
1) Like our Official Facebook Page
2) Like & Post your Holiday Wishes underneath our Pinned Annual Christmas Giveaway Post

As thanks to all the companies participating however we also ask you to like some (if not all) of their Facebook pages by clicking on their names right next to the prize made available by them. This is not a perquisite but we all feel that they deserve that small "thank you" by all of us.
As usually this is a giveaway open to EVERYONE across the globe and will run until the 20th of December so some of you may actually get you prizes just before the end of the year.
The best of luck to all of you both from us and all the companies participating in this giveaway.