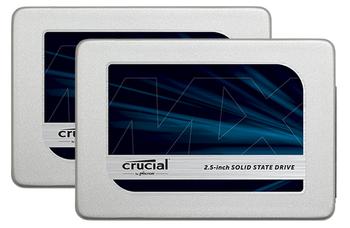 The HEXUS Epic Giveaway is back and bigger than ever! In partnership with ARM, we'll be giving all our fabulous readers the chance to win fantastic prizes every day throughout the holiday season!
Our awesome giveaways will include goodies from ARM partners such as Asus, Corsair, Nvidia and Synology, to name but a few. It's going to get hectic, so be certain to bookmark our dedicated Epic Giveaway homepage to keep tabs on each new competition as it arrives.
Want a solid-state drive that's both fast and spacious? Then Crucial's 1TB MX300 ought to be on your radar. Promising read and write speeds in excess of 500MB/s, the drive is a meaningful upgrade over a traditional hard disk and we have two 1TB models up for grabs.
Want to be in with a chance of winning? Answer the following simple question, and don't forget, you can also claim a free second entry via Facebook. Good luck and check back soon for more prizes in the 2016 Epic Giveaway!
Вопрос :
In addition to SSDs, which other product is Crucial famous for?
Eligibility: Global