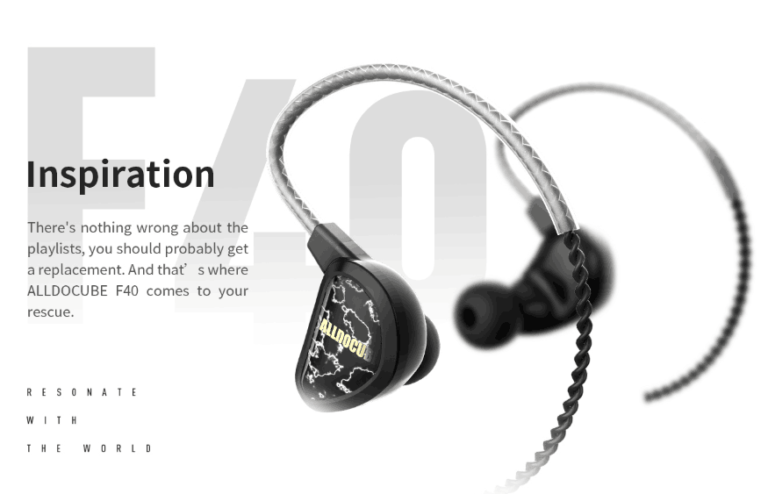 Gizmochina along with ALLDOCUBE is conducting 5 units ALLDOCUBE F40 Quad Driver Headphone as giveaway gift to five lucky readers. Like always, you just have to follow the steps mentioned on the Gleam widget to get a chance to win this amazing gift.
Alldocube F40 Quad Driver Headphone features three dynamic drivers, one separate balanced armature and four frequency division technology that you can have great experience. With the materials of plastics and natural stones, the F40 headphone has ergonomic design which has a pleasant feel to wear. Thanks to the fine adjustment, you can enjoy a fully balanced and precise soundstage with shimmering detail across wide range of frequencies. The Alldocube F40 is compatible with most Tablet PCs and smartphone with 3.5mm headphone jack on the market. The headphone works better with ALLDOCUBE X Tablet which not only comes with Samsung Super AMOLED 10.5-inch 2K display, but also ships with AKM Hi-Fi chip. Working with ALLDOCUBE X tablet, designed for music and movie, the ALLDOCUBE F40 driver headphone will do better.
What's more, if you get the F40 Headphone, you can also obtain 6 earplugs to replace.
How to entry this giveaway? Just follow these steps via Gleam widget:
Visit Alldocube F40 Quad Driver Headphone on Alldocube's website.
Share this giveaway contest on Facebook, Twitter and Reddit;
Terms & Conditions:
1. The giveaway is an international giveaway.
2. We are not responsible for lost shipments.
3. We are not responsible for any duties, import taxes that you may incur.
4. We reserve all rights to make any changes to this giveaway.
5. The prize will be shipped in a month when the giveaway end.
Just follow the steps mentioned in the Gleam widget to participate in the giveaway.
Once again, good luck.